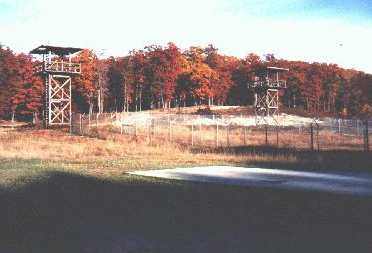 It's so cute. We think all these primaries mean something. When I voted at the 73rd Street Senior Center on Tuesday, I felt a part of something. You DC area cynics might also think you can make a difference by voting in the Potomac Primaries on February 12th.
Forget it. Do you think the Unitary ExecutiveTM and the Dark Lord have been piling up all that power so they can hand it over to Barry Hussein or Hitlery in January 2009? Think again:
Today, more than 23,000 representatives of private industry are working quietly with the FBI and the Department of Homeland Security. The members of this rapidly growing group, called InfraGard, receive secret warnings of terrorist threats before the public does-and, at least on one occasion, before elected officials. In return, they provide information to the government, which alarms the ACLU.
Sounds sensible, right? Protect the important stuff like bridges, powerplants, ports. But prepare to shit your pants after the jump.
"The meeting started off innocuously enough, with the speakers talking about corporate espionage," [a businessman said]. "From there, it just progressed. All of a sudden we were knee deep in what was expected of us when martial law is declared. We were expected to share all our resources, but in return we'd be given specific benefits." These included, he says, the ability to travel in restricted areas and to get people out.
But that's not all.

"Then they said when-not if-martial law is declared, it was our responsibility to protect our portion of the infrastructure, and if we had to use deadly force to protect it, we couldn't be prosecuted," he says.
Oh c'mon you say. That's tinfoil hat stuff. Well, maybe not.
[Reporter Matthew Rothschild] was able to confirm that the meeting took place where he said it had, and that the FBI and Homeland Security did make presentations there. One InfraGard member who attended that meeting denies that the subject of lethal force came up. But the whistleblower is 100 percent certain of it. "I have nothing to gain by telling you this, and everything to lose," he adds. "I'm so nervous about this, and I'm not someone who gets nervous."
After the last seven years do you put it past this administration? Halliburton concentration camps. Homeland security lists of "troublemakers". See you at our tribunals fellow subversives!